Energy
Newelo in the energy industry
Case: Leppäkosken Sähkö
Starting point
Leppäkosken Sähkö wanted to replace tedious paper maps that relayed static information on work items in the field. Paper maps were inconvenient to use and could not offer current information about work items or the situation in the field. Also, the increased reporting obligations to the Energy Authority demanded more accuracy in the content reported from the field. This meant they needed tools to make gathering and transferring information seamless.
Newelo's solution
Using mobile work management services provided by Newelo, installers receive real-time information in the field about the location and maintenance needs of the components. Installers can perform their work significantly faster and more easily.
Customer

Keywords
energy, infra, mobile modelling of energy networks and meters, real time, work site management, work management, field service management, reporting, enterprise mobility
Newelo has helped us to make our operational processes significantly more efficient. We can use the system to monitor the progress of work tasks and report completed work. Together with Newelo we have taken a giant leap toward electronic operational processes.

Verkostojohtaja, Leppäkosken Sähkö Oy
How our solution works?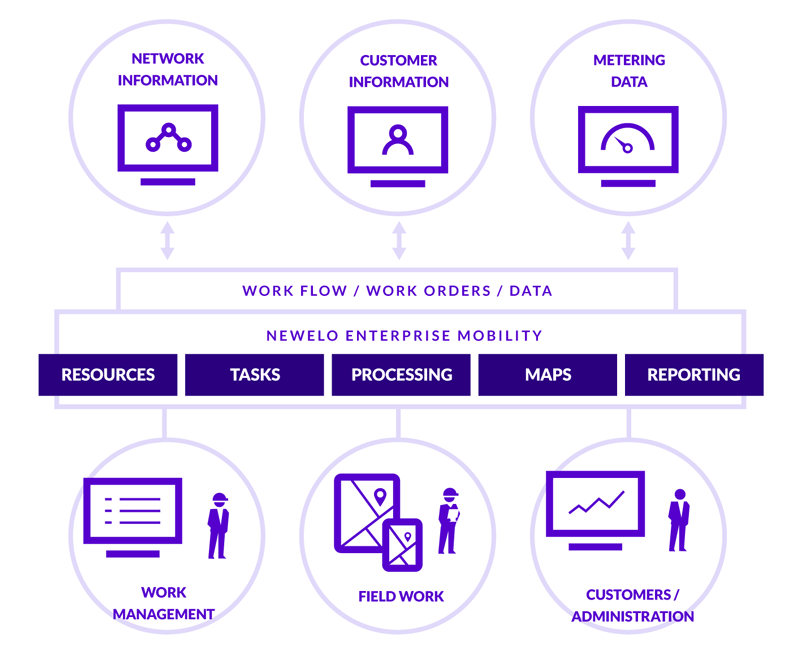 Reporting and integration to key measurement and customer data systems:
For example, the status of low and medium voltage networks and devices on the map layout can be relayed in real time to the field personnel
Snapshots of smart meter status on the map in real time
Relaying work orders, faults and monitoring customer jobs
Meter installations, replacements, removals and maintenance work
Metering tasks, work site sign-ins and hourly reporting can be easily added
Modern tablet or smart phone applications to the field personnel
Work orders in the energy industry:
New connections
User disconnections and connections (in terms of payment issues)
Metering tasks, for example meters detached from the network, reception issues, meter replacement
Low-voltage work and faults
Medium-voltage work and faults
Felling assistance
Helicopter sightings
Inspections of network devices, e.g. transformer substations, distribution cabinets, lines
Various records and reports
Would you like to know how our service can be scaled to fit your own business operations?
Or call us right away +358 10 281 0430