Telecom
Newelo in the telecom industry
Case Nepal
Starting point
Nepal, with 30 million inhabitants, is a country whose basic infrastructure is under constant development. Success requires not only local knowledge but also service and business models that solve local problems. Newelo and its collaboration partners travelled to the border of China to solve the operator customer's operational challenges in terms of network maintenance and service.
Newelo's solution
Services developed under Newelo's supervision are used to monitor the operations of the telecom network and, for example, the functionality of diesel generators in real time, in order to provide flawless services to the operator's 9 million customers regardless of the power outages. Of course, this is only one example of a total of about twenty operative processes that are nowadays managed in a timely, mobile and efficient manner.
Case
Keywords
telecom, networked devices, consulting services, infra, mobile personnel, network maintenance, mobile work management, field service management, reporting, enterprise mobility
How our solution works?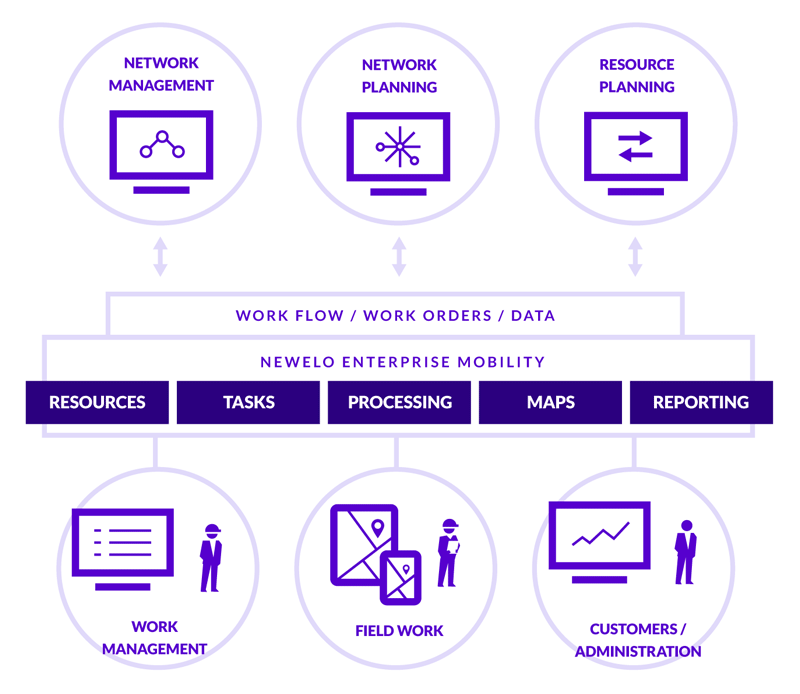 Work orders in the telecom industry:
Work orders and reports related to the planning of the telecom network

Work orders and reports related to construction projects

Alarm and inspection tasks and reports related to monitoring

Work orders and reports related to preventive maintenance

Work orders and reports related to the monitoring, maintenance and service of the energy supply

Work orders and reports related to scheduled inspections
Key information to the field and from the field to the company's systems:
One mobile terminal for the field personnel's use
Integration with your company's work and operations management systems
Versatile work orders to support maintenance and installation operations
Field analyses, network construction, network maintenance tasks and management of fault situations
Real-time information about the statuses and locations of tasks on the map
Would you like to know how our service can be scaled as a part of your own business operations?
Or call us right away +358 10 281 0430